We were asked recently
"Why do race prices increase? Does it get more expensive to operate closer to race time?"… These are great questions and a few answers came to mind, but we really wanted to dive a little deeper before we gave this inquisitive runner an answer. This also gave us an opportunity to be as transparent as possible to let you know where your money is really going.
And yes, we have a price increase this Friday, May 27th… so after reading this article, head to registration.
Race Expenses
So let's start with – What are the main expenses for our race (and most races other than the traffic control piece of shutting down a highway).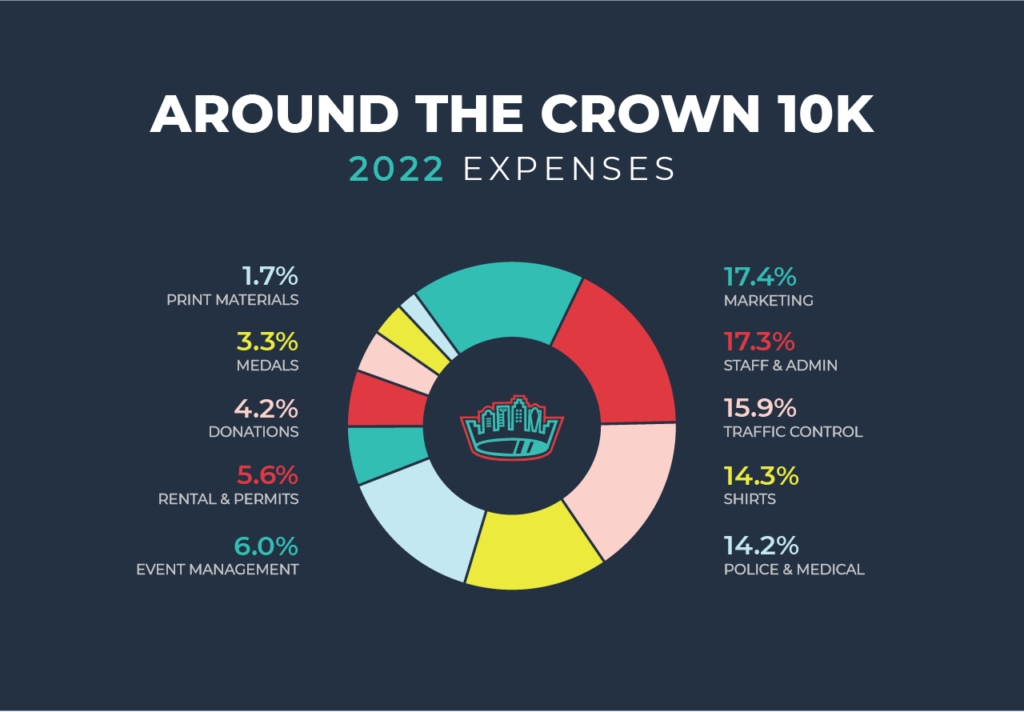 General Breakdown
| | |
| --- | --- |
| Marketing | Traditional and digital along with website updates and photo/video |
| Staff & Admin | Salaries, bookkeeping, gas, travel, insurance, office expenses |
| Traffic Control | Shutting down a highway pretty much: cones, signs, staff |
| Shirts | Amazing Recover shirts made from 8 plastic bottles |
| Police & Medical | Once the highway is shut down, they keep it safe until the last runner |
| Event Management | Arches, timing mats, chips on bibs, water stops, volunteer coordinations, expo setup |
| Rental & Permits | Parks, stages and tents, expo space, city permits, busses |
| Donations | We have 3 main beneficiaries throughout the year and work with 3-5 through Truist Training Tours and other events |
| Medals | These prices continue to go up and shipping isn't getting any cheaper |
| Print Materials | Race day banners, expo banners, posters, flyers, and bibs |
Marketing
Now, back to the question at hand – why are their price increases? Well, there are a couple of reasons, but we'll start with the first one that came to our minds. Marketing. We collect the most registrations during these days leading up to the price increase because the majority of us are price conscious. Humans make decisions to save money, so we reiterate that opportunity by pushing our marketing a little harder therefore we see an increase in registration. This early registration allows us to forecast for things like medals and shirts, but also helps us set our marketing budget for the year as the pieces of the puzzle come together. Essentially, this is one of our best marketing tools.
Family and Friends
Post-race surveys tell us that the #1 reason runners sign up for races is due to word-of-mouth marketing aka their friends and families telling them about it. If we can convince your sister to race, we know that our best chance of getting you to run is through her (or another friend of family member). Our social posts and emails are then just little taps, but she's the one that nudges you over the edge. We're discounting her early entry knowing she'll convince a few more friends and family.
Options
We also look at our different entry points as options. We offer an entry point for all: Those that are price conscious and want to create their race calendars for the year. They know if they sign up early they can set their training schedule and get a deeper discount. Then there are those that want to keep their options open until closer to race day to make sure they're available and healthy.
Deeper Dive
Now, we'll get a little further into the weeds… Unfortunately, we only have one "normal" year, but it can still tell us a lot and we're excited to update this in years to come. In 2019, our prices started at $25 for one week when we launched this concept and made up for 32% of our total registrants. The price steadily increased by $5 every 2 months or so and we ended at $60 during the expo which totaled 2.5% of registrants. However, the vast majority of signups came between 4 months and race week, netting the average out to $38.87 not accounting for discounts or other oddities. Knowing this average helps us budget for years to come and we are constantly analyzing to be as efficient as possible.
Questions?
We enjoy being transparent with our race and are always open to questions. Message us on social, email us, or snag us the next time you see us at a run club and ask us that random question about the running industry or just random Charlotte trivia. If we don't know the answer, we'll start digging.