Expo
We're not your average race therefore this isn't going to be your typical expo.
Pick up your race packet
Before you run the 2024 Around the Crown 10K, you need to pick up your race packet. This will include your official ATC10K shirt, your race bib, a cold beer, and goodies from a lot of local companies. Not only will the expo include all of your favorite vendors, Camp North End has a ton of local businesses on their massive campus! Be sure to head by the Truist booth to snag your Truist Token – It's worth $5 to all local food vendors at Camp North End on the day of the expo! This includes Viva Chicken's food truck, Bleu Barn, Noda Company Canteen, HEX Coffee, La Caseta, Popbar Charlotte, SARU Ramen, Seemingly Overzealous, and Wentworth and Fenn! We'll also have a pop-up shop with Charlotte Running Company including all of your favorite ATC10K gear to keep you CLT themed throughout the year.

When: Saturday, August 31st – 11:00AM – 6:00PM
Location: Camp North End
Address: enter at the light at Sylvania Ave. and N Graham St (click for directions)
Don't forget to check out our full race weekend schedule!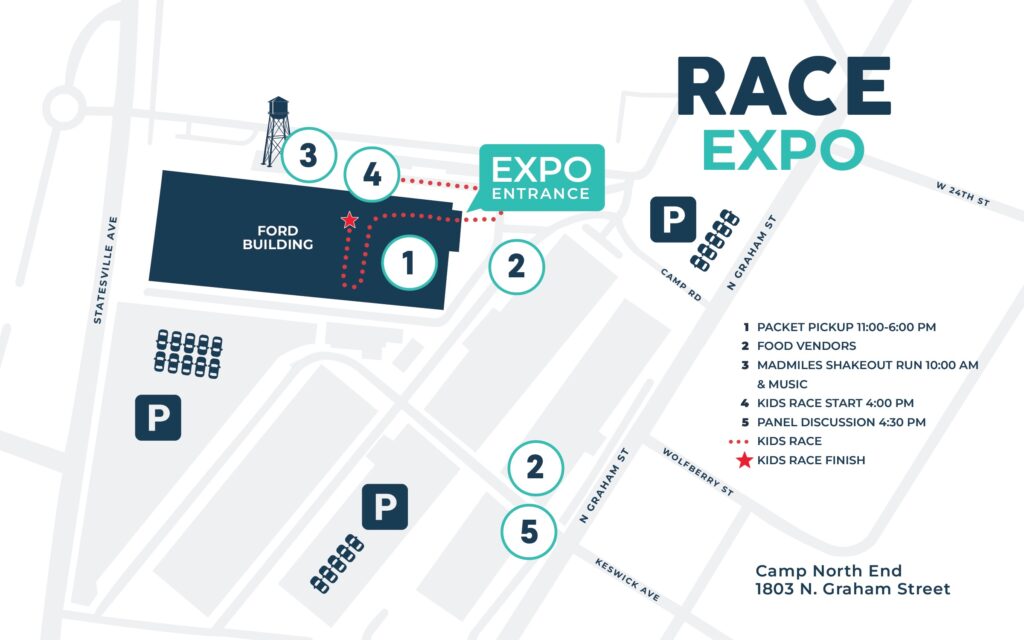 Shake Out Run with Mad Miles – 10:00am – Keswick: 1701 N. Graham
It's time to stretch the legs out before the big day! Join us at 10:00am on Saturday, September 2nd at Camp North End to run with Mad Miles. We'll be kicking off the expo and the day's festivities with a celebration of all things Charlotte running on a go at your own pace loop around the expo facility with 1 and 2 mile options. This group does an amazing job of stretching you beforehand, welcoming every pace, and a little yoga afterwards. Next up, it's time to head to the Ford Building where we'll be opening the expo at 11:00am!
Kid's Run – 4:00pm – Water Tower
The Kids' Run takes place at 4:00pm right under Camp North End's iconic water tower! This 9 and under jaunt around and inside the historic Ford Building at Camp North End will take the little ones on a .277 mile adventure. Runners will start on the outside of the expo and then finish in the middle of the action inside where the crowd and all of the vendors are roaring.
Parking
We're excited to offer you free, on-site parking at our expo including the brand new parking deck! With its 76 acres, Camp North End has all the space to fit the fun in. It's a short walk through their gorgeous space to get to the packet pickup area which will then lead you to our entertainment for the day! It's easiest to enter at the light at Sylvania Ave. and N Graham St.

Expo vendors
Welcome to the Around the Crown 10K Expo. This event will have an emphasis on the health and fitness benefits associated with simply getting outside for a little exercise. We look forward to seeing a wide spectrum of dedicated vendors displaying a variety of products and services to browse through.

The 2024 Expo will be a fun and informative event with a focus on the Charlotte active, outdoor community; local non-profits; sports medicine and fitness programs; the latest in fitness clothing, shoes and training aids; and a variety of other run related products and services.

Vendor booths will be limited so reserve your space soon. For more information, contact us at expo@aroundthecrown10k.com.