A note from the Race Director:
Our fourth year of Around the Crown 10K presented by Truist was one for the books. In short, it felt like the race was accepted and applauded by the entire city and the p**demic was coming to a close. Sweaty hugs were welcomed and the weekend reports from local news were no longer about road closures, but more focused on where to cheer and support the thousands of runners taking over a highway.
Donations
In 2022, you enabled the running community to give back more than $25,000 through Around the Crown 10K. The majority of this goes to our beneficiaries: Partners for Parks, RunningWorks, and Carolina Farm Trust throughout the year through your donations during registration, events like Truist Training Tours, as well as our year-end donations from race revenue. We also gave to other non-profits like the Matthews Heritage Museum, Charlotte Knights Charities, Weddington High School Marching Band, and Tri It For Life in 2023. Lastly, we were able to take a portion of this and give to the Adé Hogue Foundation for those that opted out of a medal this year.
Expo
The expo was taken to another level once again thanks to our largest Kid's Run yet, our HBCU pre-run with Mad Miles and Mayor Vi Lyles, as well as a care package like no other from Truist. Our expo HQ, Camp North End, is constantly evolving into a hub for the running community and continues to make updates (like a parking deck for 2023!) to better the experience for guests. Check out our expo recap to relive it all again!
Race Day
In 2022, our race start/finish line went back to the original location kicking off at the front steps of Truist Field. We upped the ante with over $5,000 in cash and prizes for the speediest and luckiest through a slieu of awards. The stroller division welcomed it's largest and most competitive field yet with nearly 150 next gen runners getting pushed on an interstate! Cheer stations grew with clubs and friends hijacking overpasses along the course as well as Truist cheer station with free coffee as soon as you exit the highway. Take it all in one more time…
Sustainability
As we continue to work towards one of the greenest races in the country, key partnerships with like-minded businesses allow us to further our mission. These include companies like Charlotte based, Recover, who provides our recycled race shirts, Hiccup who supplies our reusable cups at each water station, and Crown Town Compost who handles our post race food diversion. This is a conversation we continue to have with all sponsors and partners that join at the expo, race day, and throughout the year.
Demographics
Holding true to our purpose, this year continued to show that running can make you healthier, happier, and more confident with no regard to age, cultural differences, gender, pace or experience. Our top ZIP continues to be 28205, but they are becoming much more diversified through the rest of the Top 10. Also of note, Monroe and Mint Hill have climbed the ladder to make the list for top cities. Our average age was down compared to previous years, but we continue to lean on our female runners to lead the way.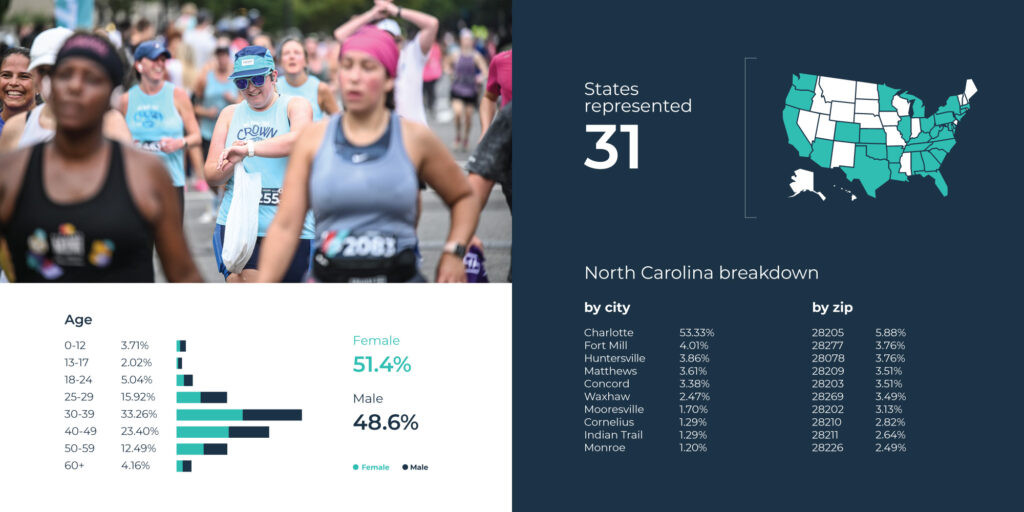 2023 Goals
First and foremost, we need to address our problems from 2022. We are a young company and with that comes growing pains as we learn. In 2022 we were able to address issues from 2021 with the need for more porta-jons, race day photography, and finish line food. This year, we missed the mark on just a couple of things, but we know we can only get better if we know where our faults our – these included water at the finish line as well as our awards ceremony. We have already purchased a couple of Water Monster's to help with the finish line and we will have backup (non-sparkling) water for those that did not enjoy that option this year. We identified the issue with moving results from the timing machine to our mobile devices to host the awards accurately and have already found the solution there. If there are any other issues that you feel we need to work on, please email us!
As far as 2023, we plan to continue to grow this race with a goal of 6,000 runners while further diversifying our start line working towards it exemplifying ALL of Charlotte. We also plan to add corrals to ease growing pains and make race morning smoother for all from the strollers, to the elites, to each and every pace. Next year will also include the continuation of our Truist Training Tours throughout this beautiful city. Lastly, we look to expand our work with sustainability as we lessen our carbon footprint throughout the year.
We look forward to hosting you once again in 2023 on the streets of our beautiful city!