Launch Party Recap
We kicked off the year with our Launch Party at NoDa Brewing on Saturday, January 21st with over 250 in attendance! It felt more like a family reunion of the Charlotte running community than a registration launch and we loved it! With a successful in-person and online launch, ATC10K '23 already has 1,000+ registered and it's looking like it'll be the largest year yet!
Team Challenge
In 2023, the largest team is walking (running) away with a piece of the city, the Queen's Chalice! This will be redeemed, and filled, at the after party at NoDa Brewing Company along with a $704 bar tab split amongst the top 3 teams… 1st gets $404, 2nd has $200, 3rd with $100.
2022 saw Mad Miles Run Club competing with the Truist Teammates up until the final week where Mad Miles took the top spot. Can they be knocked off in 2023 by a new comer? Charlotte's ever growing run club scene already has some of the top 5 spots and other Southeast powerhouses in Atlanta are knocking too…
Race Day Running Waves
If you've already registered, you'll notice that you had to select an "Athlete Category" to place you in your appropriate wave. There's an added Elite Category where you must submit a qualifying time: 6:45 min/mi pace for women and 5:10 min/mi pace for men.
This means we'll have dedicated waves for wheelchair athletes, stroller pushers, and a more controlled open wave with fencing for those of us just excited to get our feet on the highway one more year! Pro tip: be sure to arrive a hair earlier this year to get in your correct wave.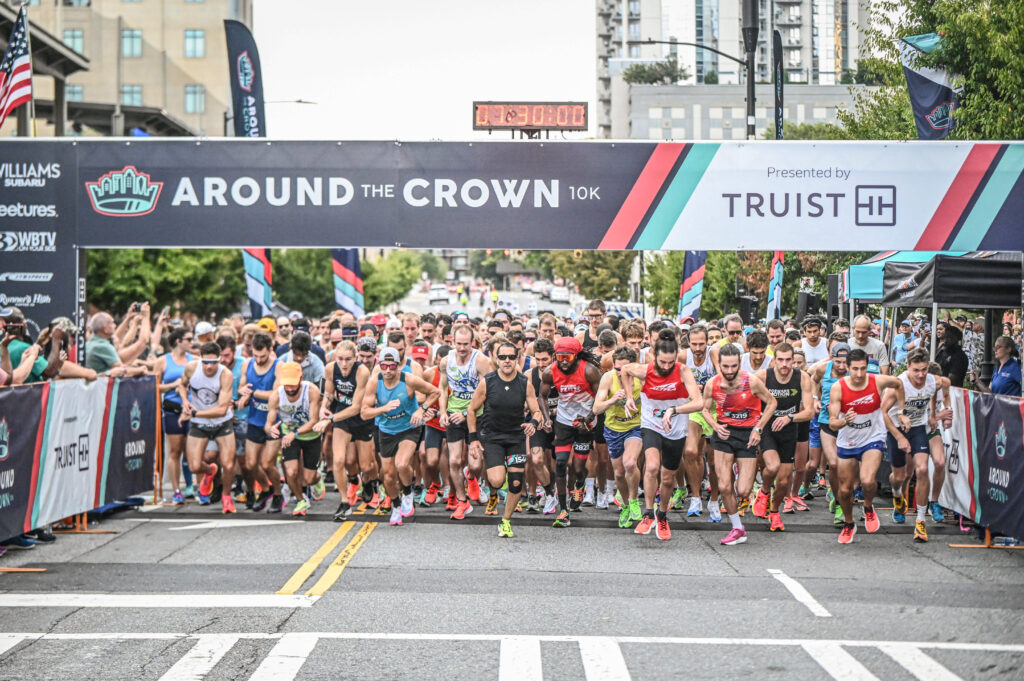 Volunteers
This year, we're doubling down on the backbone of race weekend – the volunteer. With the addition of waves, an ever growing Kid's Run, and year 5 welcoming so many new faces… we'll need even more support! Help us run the race and volunteer this year!
In 2023, volunteers will receive:
– Recover Brands Volunteer Tee
– Local food or coffee depending on the duration and timing of your shift
– Guaranteed lowest price ($27.70) for the 2024 race!
Streakers
Around the Crown 10K was established in 2019 which makes '23 our 5th year running… time is flying! There are 265 of you crazies out there that have run all 4 years with us and a chunk of you have already signed up for 2023. We're going to lean hard on you to help us guide this ship in years to come! To thank those that have been hanging out with us for half a decade, we're going to have a special surprise for you at the expo this year at Camp North End!
Making a come back
There's so much more we're working on from sustainability, to race day festivities, to expo activities. Needless to say, there's a lot of upgrades happening, but always remember, the classics will stay like… Feetures socks for all, pre-race beer (or post-race this year!), and medal donations.
If you're in, go ahead and register now while prices are the lowest they'll be!