Sweat Like A Mother (S.L.A.M.)
Here in Charlotte, we're thankful to have a beautiful and inclusive running community in so many ways. Recently, we had the opportunity to meet with Sweat Like A Mother (S.L.A.M.) and chat about running with our next generation. This blog is co-written with their amazing team and we're so thankful to have their knowledge on getting the entire family involved-littlest ones included!
Hundreds of moms, dads, and caregivers have tackled this 10K course with the added challenge of pushing a 25lb+ stroller (not including kids and gear!). This is a unique experience for the entire family to enjoy the views of Queen City together. Not only is it a paved course, but strollers start 5 minutes before the rest of the pack and littles will ride past some of the best parts of Charlotte. Stroller runners are also recognized for their incredible achievements with 1st, 2nd, and 3rd place awards.
Whether you're a seasoned stroller runner or a beginner, here are 5 tips to help you tackle I-277 with 3 extra wheels:
If you are postpartum and newly returning to running, look at the example checklist below to make sure you're ready to run with a stroller. Symptoms like pelvic pain, pressure, or discomfort are different from normal muscle soreness. Running is a high-impact movement that requires balance, coordination, and endurance, in not just your legs, but also your core and pelvic floor.
Check your stroller. Read the manufacturer guidelines as many encourage waiting to run until your baby is 6+ months old and has proper neck and head support. Make sure the brakes are working correctly and the buckles snap completely. Check the air in your tires and that they are attached correctly. Bring your stroller to the S.L.A.M. Charlotte booth at the expo and we will top off your tires. Extra weight is tough, and even tougher with flat tires!
Your form will be different. Pushing a stroller takes additional strength, coordination, and energy. Practice switching around your grip, alternating hands, or pushing with both hands. Adjust the handlebar to your height so you can keep your chest up, and practice an under-stride to keep from kicking the stroller. Add strength training to your programming, especially the midsection (back, glutes, abdomen, hip flexors), to help increase speed, push you uphill, assist with absorption downhill, keep form proper, and provide stability.
Get ready for the Queen's Climb by incorporating hills into your training. On the way uphill, keep the stroller close to your body to prevent back issues. On the way downhill, hold on tight, lean back, and if your stroller has one, use the handbrake to slow down the stroller.
Last but not least, pack ALL the favorite stroller snacks & toys! Keep them in the cup holders by the handlebar for easy grab and pass or use a chain of plastic links to connect snacks and toys to the stroller, to avoid stopping when things are dropped or tossed. Race day won't be like a normal training run for the kiddos–with the sea of strollers, runners, spectators, and water spots there will be a lot of extra entertainment!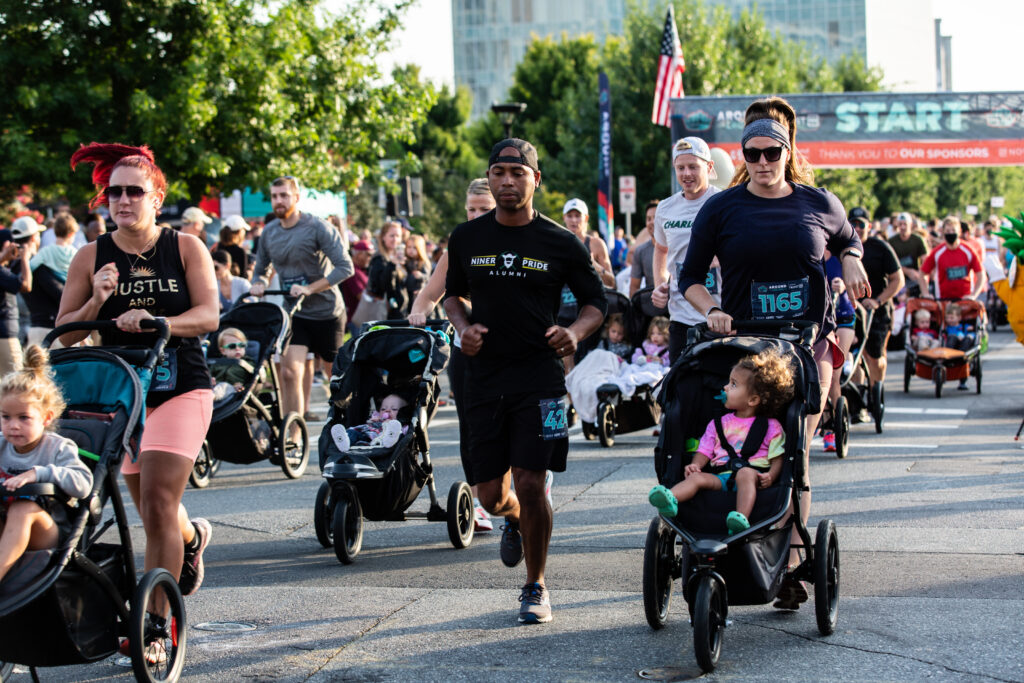 Postpartum return to run checklist
We highly recommend consulting with a Pelvic Floor Physical Therapist prior to running postpartum. Newly released guidelines for returning to running encourage the use of screenings to measure readiness. While not an exhaustive list, can you do the following without pelvic heaviness, pain, incontinence, etc.?
· Walking 30 minutes
· Jog in spot 1 minute
· Single leg squat 10 reps each leg
· Forward bounds 10 reps
If you have any questions or are looking for postpartum running guidance, send Angela an email at angela@sweatlikeamother.com.
Co Written by Kara Daniels, Owner, and Angela Mitchell, Manager, of S.L.A.M. Sweat Like A Mother Charlotte. S.L.A.M. Charlotte is a fitness community for moms specializing in pre/postnatal exercise. S.L.A.M. offers stroller-friendly group strength training and run programming and meets at parks in the Charlotte and Lake Norman areas.