Our run-away series takes the Williams Subaru ATC10K Outback on amazing outdoor adventures within 2 hours of Charlotte to check out new running getaways.
Brevard / Pisgah National Forest
Back to the woods we go to enjoy some leaf peeping and the crunch of gravel roads under our feet. This time we headed West towards the Blue Ridge for views of Looking Glass in Pisgah National Forest just outside of the quaint mountain town of Brevard, NC. This one was an extra special one thanks to Williams Subaru letting us test out their new rooftop-tent rental program. Because of that, we decided to make it an overnight family camping trip!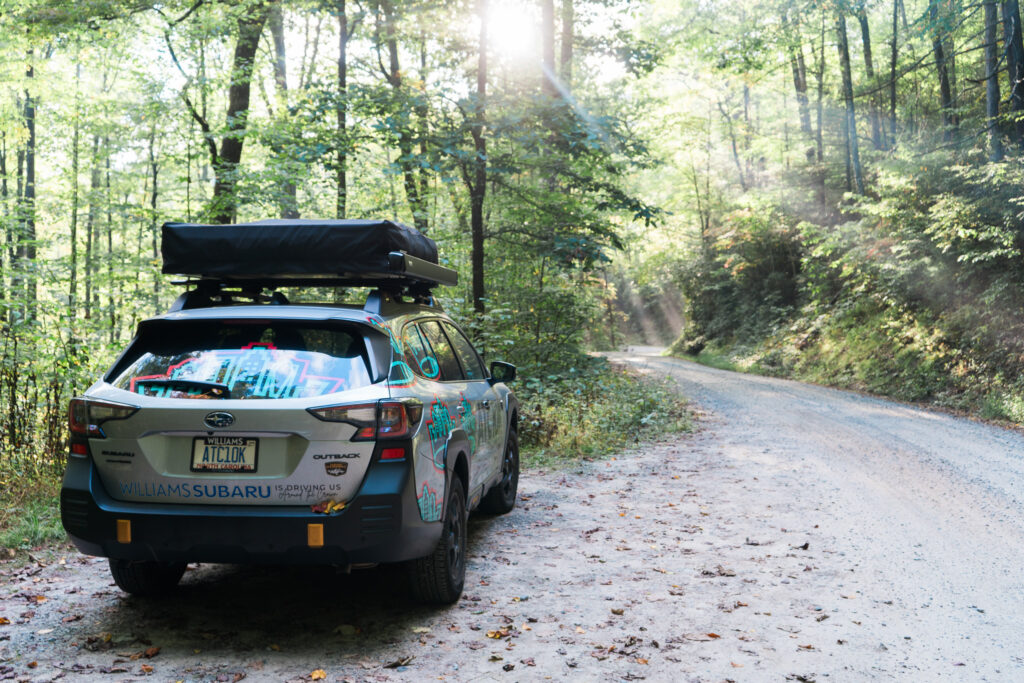 Taking the ATC10K Outback where it belongs out in the wild with the windows down makes for a great start to the adventure. We took Pisgah Highway (276) up into the National Forest near Slick Rock Falls to enjoy some roadside camping along the gravel roads that traverse the 500,000 acres of hardwoods and waterfalls. Pisgah has hundreds of miles of trails for hiking, biking, and horseback riding between it's three ranger districts – Grandfather, Appalachian, and Pisgah. Our go to spots in the Pisgah Ranger District are always views of the stunning granite of Looking Glass and Pink Beds a little further up in elevation.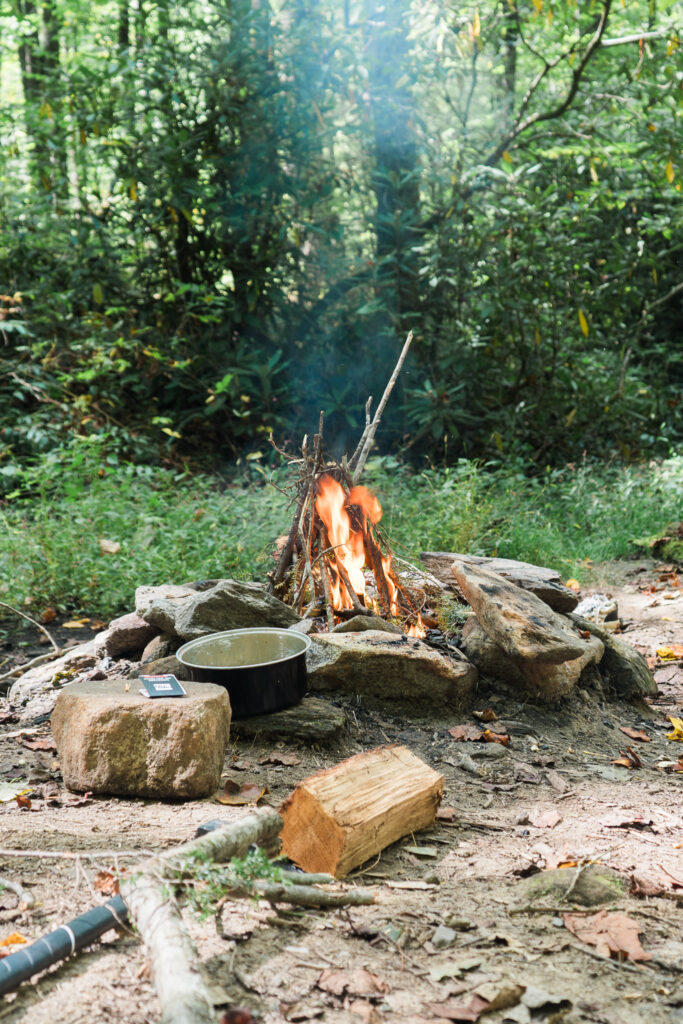 After getting in a good amount of vert on those gravel roads, we headed back down into Brevard for some tasty treats and a last taste of the crisp mountain air. Don't forget that even if you don't head up in elevation, you can still get some greenway miles in around town through the Estatoe Trail, head to Bracken Preserve near the historic Brevard Music Center, or to Andy Cove for a fun one mile loop with the kiddos.
Williams Subaru Run-Away Map
Staunton River State Park
It's time to kick off our Run-Away series with Williams Subaru once again! We may have cheated on this one a little bit because it's outside of the 2 hour window, but it's just so docile and peaceful at Staunton River State Park… it was worth the 3 hour drive. Located in Southern Virginia just over the Old North State line, this quiet stretch of land and water is home to over 17 miles of trails for runners, mountain bikers, and horseback riders!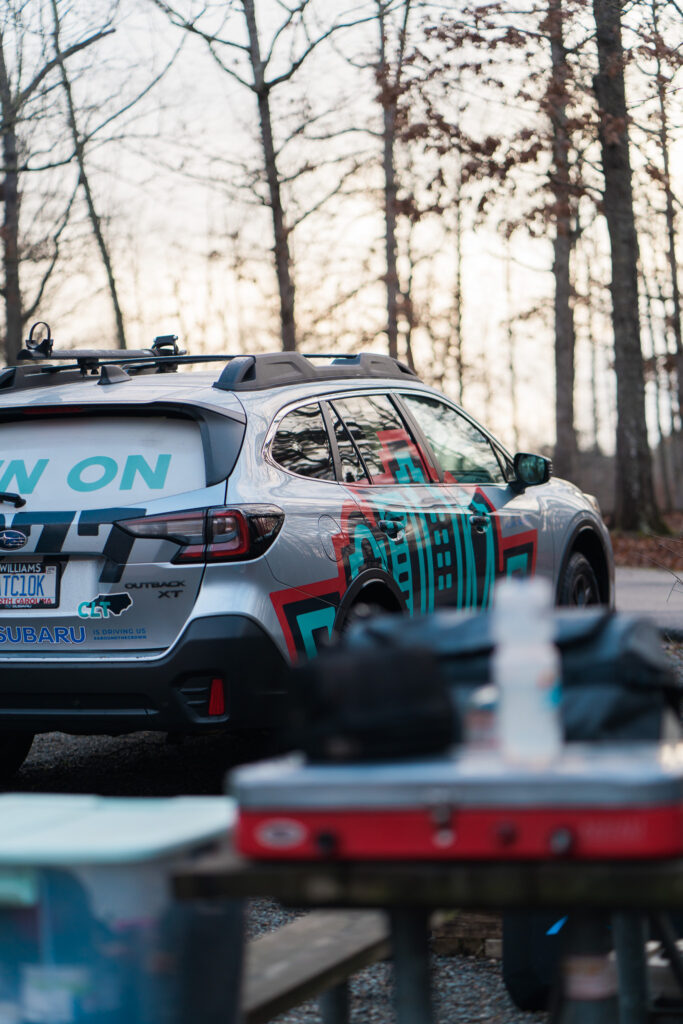 Tucked neatly in-between the Dan and Staunton River, this park is the first state park in Virginia to be designated an International Dark Sky Park and is ideal for stargazing. We took the opportunity to fully enjoy the park by camping two nights and checking out as much as possible. We filled the ATC10K Outback full of warm gear, tasty treats, and enough fun for a memorable weekend with 3 generations of runners.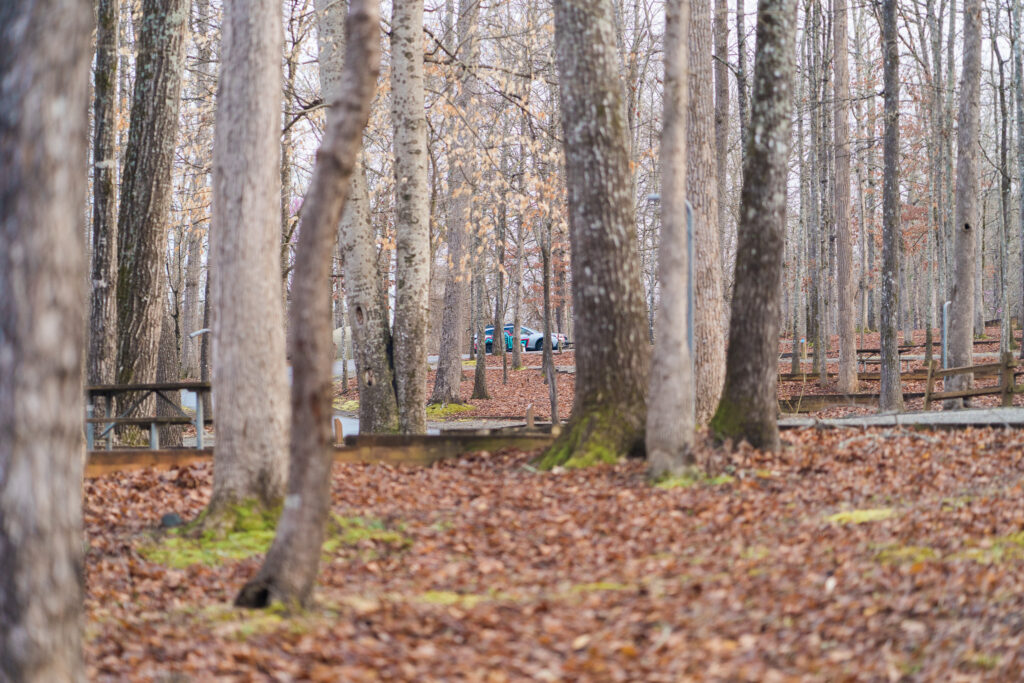 The trails are definitely more trafficked by the equestrian community than the two-legged, however they were still pretty clean and flowy – perfect for the Brooks Catamount. We went with the River Bank Trail to see the majority of the property and then added in the Twin Loops Trail to check out one more option. As the name suggests, The River Bank Trail hugged the banks of each river nearly the entire time leading to stunning Spring vistas around every corner. Each campsite had it's own water spigot so it was easy to prep for the run and the ever-changing elevation forced a welcomed power hike every now and then.
Shoot us a note on Instagram if you have any other suggestions for state parks, trails, or greenways we need to explore next!
Check out more of our "Run-Aways"…
Riverwalk
We ventured down just across the South Carolina border to a little neighborhood called Riverwalk situated between Fort Mill and Rock Hill. There are so many great opportunities for running in the area, we decided to make Charlotte Running Company our hub and explore from there!
First up, we ventured across the Thomas B. Spratt Memorial bridge crossing the Catawba River to check out the Founders Trail. We found the easiest way to enter the trail was to hop a little guard rail and then head West back under the bridge for a 3 mile (one way) trail run with stunning views and well maintained boardwalks. The path was smooth with very little rocks or roots, so much so that we went with our favorite road running shoes right now – Brooks Glycerin GTS! We stopped at the large rock formation on the Masons Bend Trail, but according to our running buddies, the single track continues onto the Baxter Village trail system. There was also a little offshoot of more technical trails where the Masons Bend trail met the Founders trail, but overall, it was a relatively flat trail with tons of shade!
Next, we came back across the bridge and hit the greenway on the south side of the Catawba River. This 2.5 mile path again follows the river for beautiful views the entire time and is extremely well maintained. At the southern end, the trail connects beneath the railway trestle to another mile of pavement to keep the party going if you'd like! There are also plenty of more technical trails for biking and running inland from the greenway.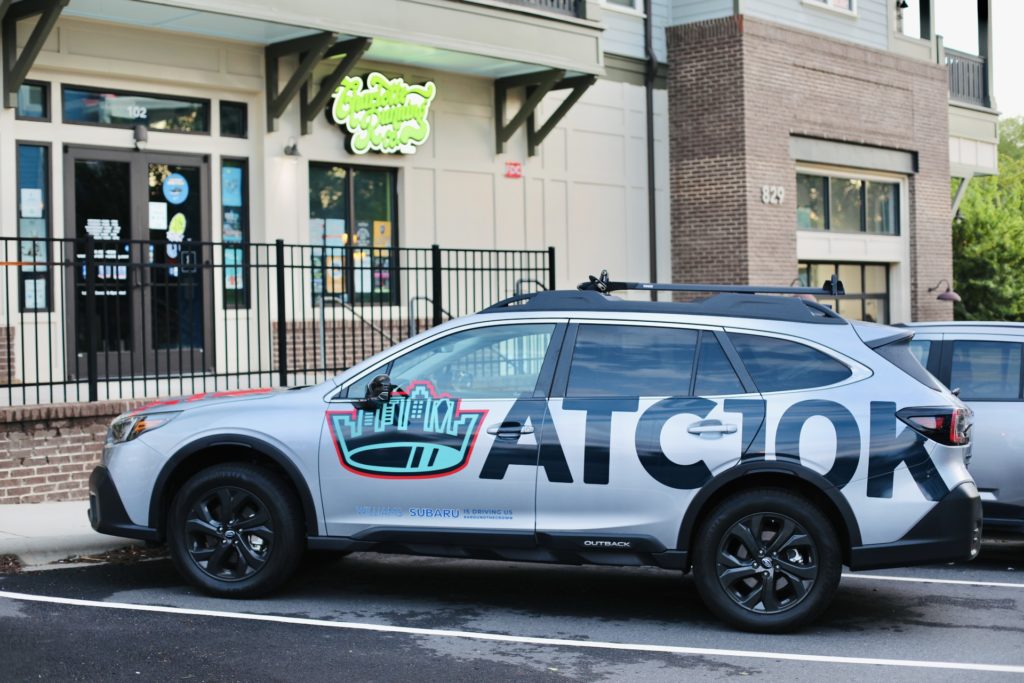 Thermal Belt Rail Trail
First on the list – the gorgeous 13.5 mile Thermal Belt Rail Trail going through Forest City, Rutherfordton, and Spindale just about an hour west of 485. This one came highly recommended from several of the ATC10K Pacers! The 12′ wide paved path stays flat for the majority of it leading you through the foothills of NC. There are multiple parking areas along the route with restrooms, water fountains, and outdoor rec areas. You can branch off for food in Spindale with several restaurants just off the path, or head into downtown Forest City or Rutherfordton.
We'd suggest parking on the South end of the trail right near Forrest W Hunt Elementary School. You will be 2.5 miles from Forest City, 7 from Spindale, and 8.5 from Rutherfordton. Another option would be parking in downtown Spindale so your near restaurants and fun when you finish up!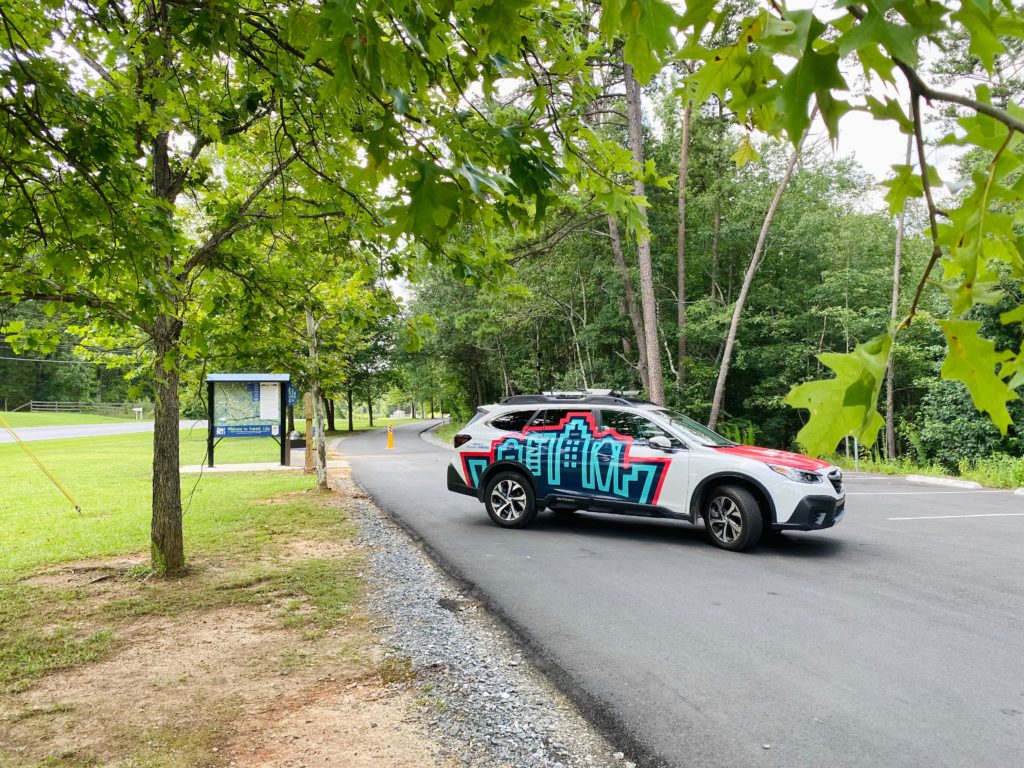 Moses Cone Memorial Park
It's time to head North to Moses Cone Memorial Park – our next "run-away" with Williams Subaru of Charlotte! Moses Cone hosts 25 miles of gravel trails throughout the 3,500 acres of breathtaking views. This one sits right at 2 hours from uptown CLT, but is worth the drive, especially in the summer being that it sits next to Blue Ridge Parkway just under 4,000ft keeping it rather cool for a morning jog. We suggest parking at Bass Lake and working your way up to Flat Top Manor and then onto Rich Mountain or the Flat Top Tower. It's definitely hillier than the streets of Charlotte, but it's never too steep and the scenery is worth every droplet of sweat.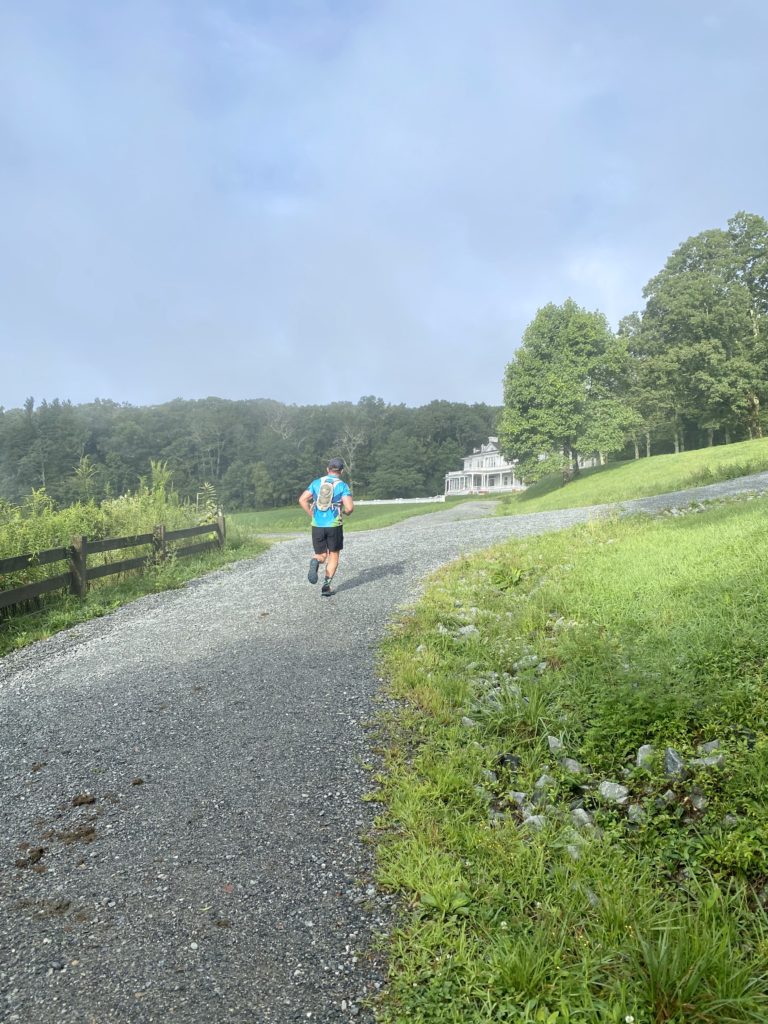 Lake Whelchel
Next up in our "run-away" series, we're heading south on I-85 to Gaffney, SC to a little puddle called Lake Whelchel and the beautiful trail that encompasses it! This hour-ish drive takes you to a magical lake where life seems to slow down and the path never rises too fast. This trail has next to no roots and stays pretty calm as it rounds the shores allowing you to maintain pace for nearly 7 miles. There's two parking spots on the dam (ATC10K Outback pictured there) as well as a parking lot at the boat launch that opens at 8am.
We've headed West and South, next we're heading North or East – where do you think we need to check out? Let us know on Instagram or Facebook!