Getting Game-day Ready: Staying Motivated While Training with a Stroller
We are just under a week away from the Around the Crown 10K! You've committed to the Stroller Division, you've just got a few more runs to go, and you may be feeling less motivated to push that extra weight and getting kids excited to ride.
Here are a few tips for the stroller runner training with kid(s) under age 5.
Follow a training plan but keep it flexible. Give yourself grace during this season as running might look different right now. Consistent training is already challenging as a parent or caregiver to a toddler and/or baby, but add in bad weather, unpredictable schedules and moods, or inconsistent sleep and nutrition and it will feel almost impossible. Some days you may have to cut it short, some days will go better than you planned, but view any distance you reach with the stroller (and without) as a win.
Interval training is a great way to reach mileage on low sleep or with a fussy kid. Mix jogging or walking into your runs. Let older kids join in by saying "stop" and "go" and their favorite, "go faster!"
Take advantage of your stroller's snack tray by running during a mealtime or snacktime. Packing for a breakfast on-the-go is fun for toddlers and you will likely see many other runners, walkers, and dogs on your route in the early morning hours. Put snacks in a snack cup or use a bento box with everything already unwrapped. The less you have to open while you're running, the better!
You may find that your younger toddler or baby enjoys napping in the stroller. Make sure they are buckled safely and tightly and recline the stroller seat and consider using a travel sound machine.
It takes some trial and error to find what works for your family. For older kids, you may find that running at a park with a playground for post-run is enough to get them excited to jump in. With babies, end your run at a coffee shop for a caffeinated cool down.
Is your tot the resident DJ at home and in the car? Make a motivating playlist with all of *your* favorite songs, no censorship needed. Wear a single headphone with volume low so you can still hear kids and your environment. Pick ones in the 120-140 BPM range, depending on pace. You can also cue up a podcast or audiobook that's been on your "to-listen" list.
Enjoy solo runs. You will feel lighter and probably won't know what to do with your hands… or where to put all of your stuff. While practicing running with a stroller is essential before race day, not every run needs to be with the stroller. Carving out time alone is important and will make your training more enjoyable.
Find an accountability group or partner that can cheer you on at the finish line or join you for your runs, whether you're with or without the stroller. Reach out to a Charlotte area run club to see if their normal routes are stroller friendly or send us a message to get linked up with other moms!
When September 3rd approaches and you're standing at the starting line, you'll be surrounded by a community that knows exactly what this season of life demands. Before you know it, your little ones will be much bigger and standing at the starting line with you. The journey is challenging but the finish will feel that much sweeter having your family by your side!
PS: If you're postpartum and experiencing any symptoms on your runs, like pelvic pain, pressure, or incontinence, please reach out to us! It can be common but it is not normal. Sometimes increasing speed and distance simultaneously might be enough to trigger symptoms. Send Angela an email at angela@sweatlikeamother.com or message us on Instagram! (@s.l.a.m.charlotte)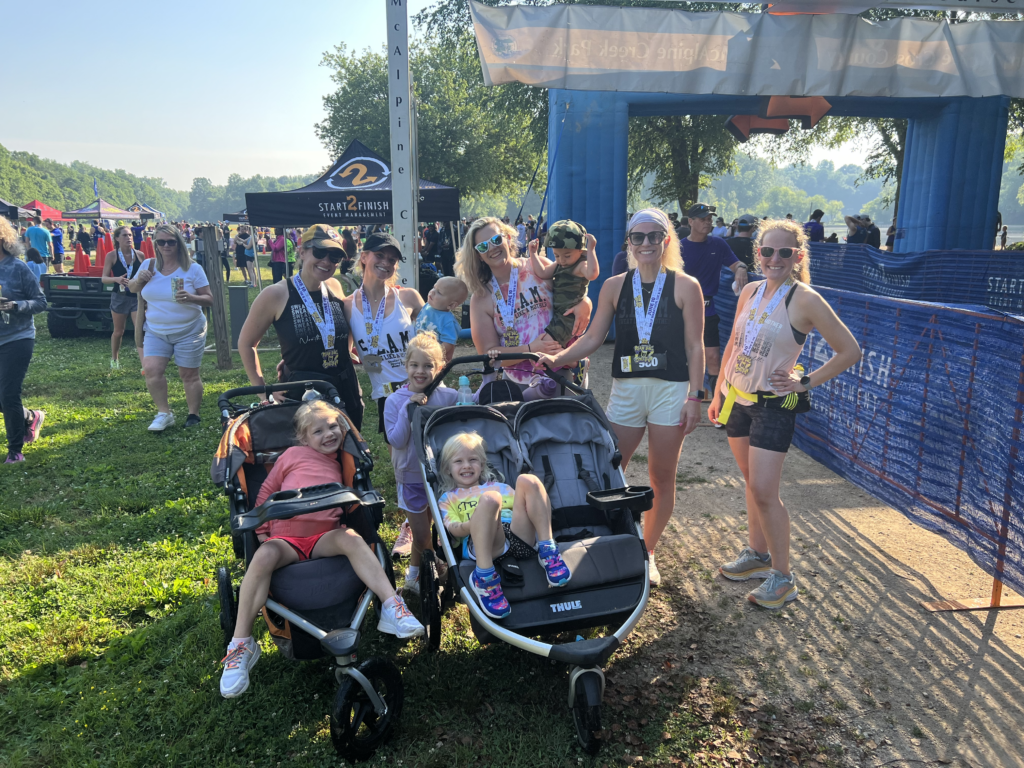 Sweat Like A Mother Charlotte. S.L.A.M. Charlotte is a fitness community for moms specializing in pre/postnatal exercise. S.L.A.M. offers stroller-friendly group strength training and run programming and meets at parks in the Charlotte and Lake Norman areas.